An infecund reality has swept the world. It has been over 18 years since the last human was born. Britain is engulfed by this barren tragedy and a tyrannical government. An ember of hope simmers through. an unlikely suspect attempts to protect this ember. Alfonso Cuarón's greatest work shines and exceeds.
Released in 2006, Alfonso Cuarón's Children of Men is a dystopian thriller set in the near future of 2027 within England. Every woman on Earth has become barren for no apparent reason. Theo Faron (Clive Owen), a politically apathetic and rancorous bureaucrat is kidnapped by his estranged wife, Julian Taylor (Julianne Moore), and the militant immigrant rights group known as the 'Fishes'. Upon arriving at their destination Theo is offered several thousand pounds to help procure transit documents for Kee (Clare-Hope Ashitey), the first pregnant woman in over 18 years.
Our introduction to the scenario our characters is not gracious, we are directly thrown in without any wiggle room. And that's how Children of Men is able to capture your attention and recapture it throughout the feature, it drags you in by your ankles. As such, what is thrust upon us is a Beirut-esque London; dark, dismal, funereal.
Theo and Kee's, destiny becomes evermore intertwined, as the transit papers procured state the individual must be travelling with a citizen, and the 'Fishes' are more malicious than we were first led to believe. They embark on an odyssey to the 'Human Project' a semi-mythical scientific group in the Azores that is trying to re-fertilise the human population. Along their way, they not only have to escape the 'Fishes' but also the vicious claws of the British police state and its military which is deporting, imprisoning, or executing every "foreigner" within its borders.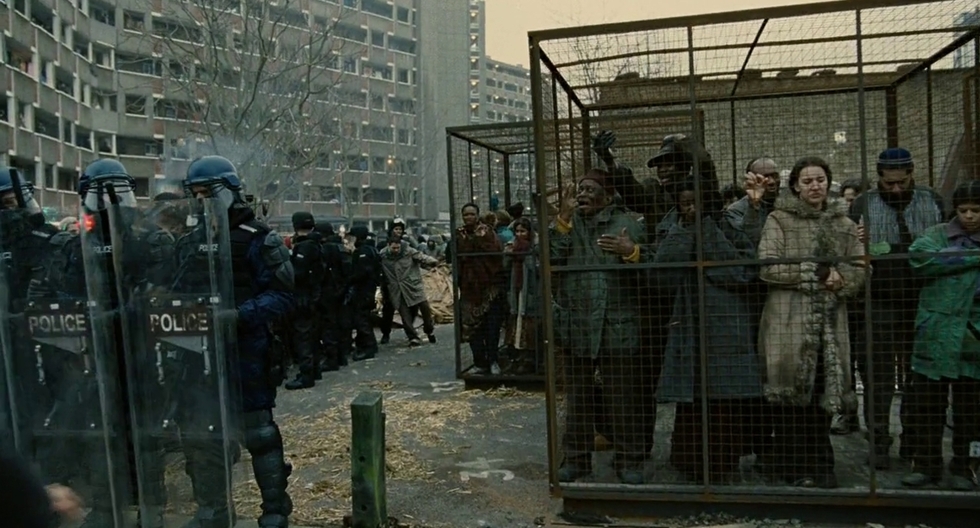 Children of Men is a modern nativity. It pits despair against hope, and fear against gallantry. Cuarón is careful to drip hope throughout the feature through the medium of light comedy. It is primarily brought to us by Theo's aged friend, Jasper Palmer (Michael Caine), a cannabis-growing pothead. We are, yet, quickly reminded hope can be taken away more easily than it can be given, and quicker too.
What is sold to us is an intense, anxiety-inducing cinematographic triumph which attempts to push you away as it simultaneously drags you in. Children of Men is a political and spiritual fable rich in dejection as well as optimism.